VEGETABLE
STEW RECIPE
Vegetable Stew is a lightly spiced and aromatic stew mixed with vegetables, spices, and coconut milk. Making delicious food is easy; it takes around 55 minutes to appropriately backed.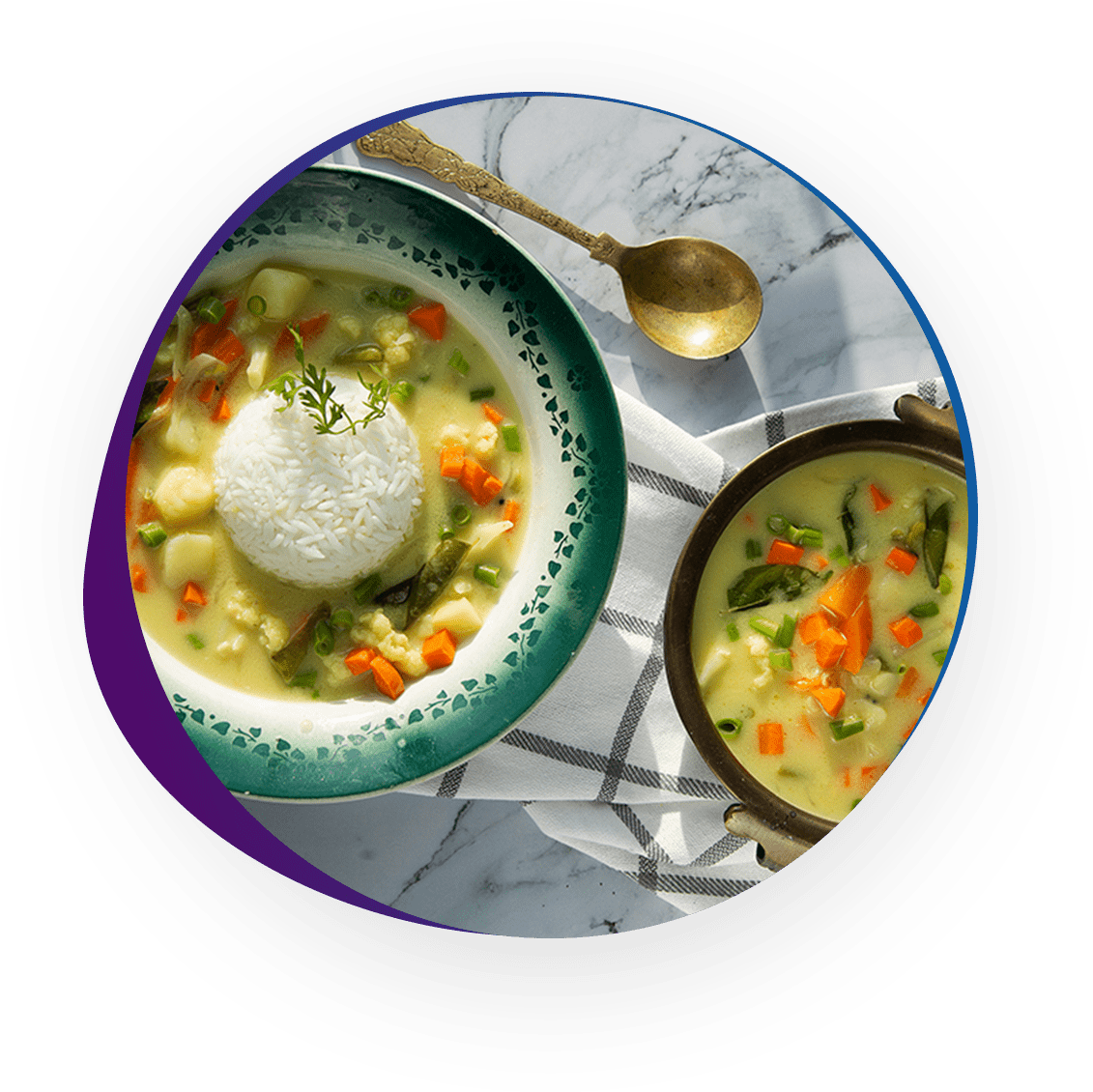 Veg stock 1 cup
Potato peeled 1 medium
Onions peeled 2 medium
Carrot peeled 1 medium
Ginger-garlic paste 1 teaspoon
Green peas 1/2 cup
Ginger finely chopped 1 inch piece
Bay leaves 2
Garlic cloves 4-5
Fennel seeds (saunf) 1 teaspoon
Black peppercorns 5-6
Cloves 3-4
Cinnamon stick 1/2 inch piece
Crushed black peppercorns 1/4 teaspoon
Green chillies slit 2
Thin coconut milk 1/2 cup
Thick coconut milk 1 cup
Coconut oil 3 tablespoons
Cashewnuts broken 1 tablespoon
Curry leaves 5-6
Method
Take a pan and Add 1 bay leaf, ginger garlic paste, salt and water and cook till the pressure is released two times.
Thinly slice one and a half onions.
Heat 2 tablespoon coconut oil in a deep nonstick pan. Add fennel seeds, black peppercorns, cloves,
cinnamon stick, bay leaf and sauté till fragrant.
Add sliced onions and sauté.
Cut potatoes and carrots into one inch cubes.
Add chopped garlic, ginger and slit green chillies to the pan and sauté.
Add chopped potatoes and carrots and sauté.
Add green peas and ½ cup water and cover and cook for 5-7 minutes or till vegetables are done.
Add thin coconut milk and salt and stir. Cover and simmer for two minutes.
Add stock and crushed black pepper and cover and cook for two minutes.
Slice the remaining onion.
Add the thick coconut milk to the stew and mix well. Transfer into a serving bowl and keep aside.
For the tempering heat remaining coconut oil in a nonstick pan. Add curry leaves, broken cashewnuts
and sliced onions and sauté till golden brown in color.
Pour the tempering into the stew and serve hot.