UNDHIYU
RECIPE
Undhiyu is a Gujarati dish, and it is a one-pot casserole dish. Making an Undhiyu takes time and patience. Traditionally the dish is cooked or fried in batches. The recipe of the bowl is easy and simple.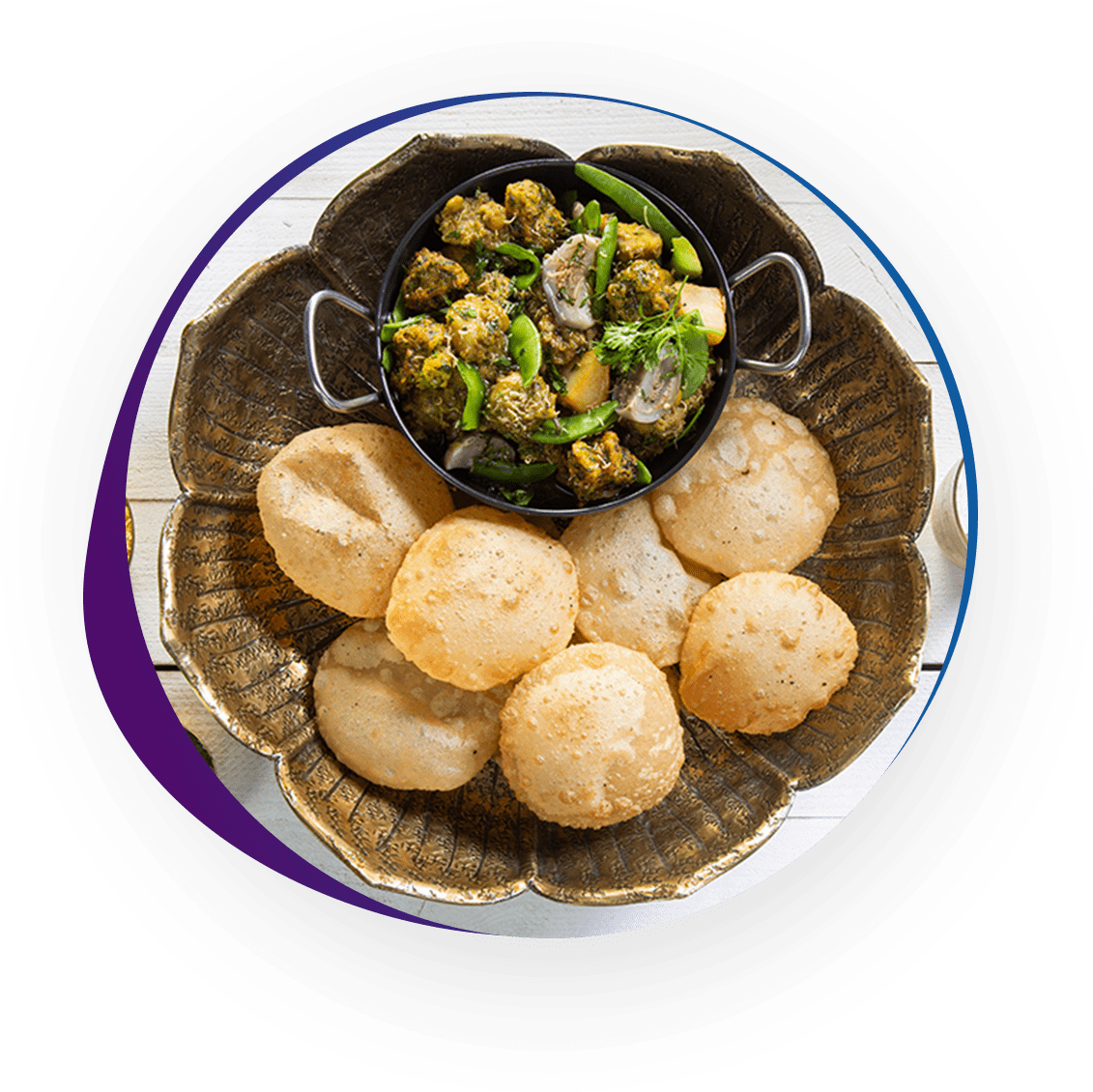 Purple yam (kand) peeled 250 grams
Green garlic 1/2 cup
Green peas shelled 1/2 cup
Scraped coconut 3/4
Surti papdi stringed seeds separated 300 grams
Fresh coriander leaves chopped 4 cups
Ginger-green chilli paste 2 tablespoons
Baking powder a pinch
Baby potatoes,peeled 8
Baby brinjals slit into 4 without cutting through 6
Salt to taste
Coriander powder 2 teaspoons
For Muthiya :
Whole wheat flour (atta) 1/2 cup
Gram flour (besan) 1/4 cup
Fresh fenugreek (methi) chopped 1 cup
Salt to taste
Carom seeds (ajwain) 1/2 teaspoon
Turmeric powder 1/4 teaspoon
Red chilli powder 1 teaspoon
Ginger-garlic-green chilli paste 1 teaspoon
Oil 2 tablespoons
Yogurt
Method
To make muthiyas mix wheat flour and gram flour in a bowl. Add fenugreek leaves, salt, carom seeds, turmeric powder, red chilli powder, ginger-green chilli paste, 2 tsps oil, yogurt and sufficient water and knead into stiff dough. Divide the dough into small equal portions and shape them into cylindrical muthiyas.
Heat sufficient oil in a kadai and deep fry the muthiyas till golden. Drain on absorbent paper. Cut purple yam into big cubes. Peel raw bananas and cut into big cubes and put into a bowl.
Chop green garlic. Grind together green peas and ¼ cup coconut. Place surti papdi and their seeds in a bowl. Add some of the coconut-green pea mixture and mix. Mix remaining coconut, coriander leaves and green garlic.
Add ginger-green chilli paste, pinch of soda and mix well. Pour 4 tbsps of the hot oil into a non stick pan. Add carom seeds and when they begin to change colour, add 2 cups water and let it come to a boil.
Add purple yam, Add baby potatoes and brinjals. Add some of the coconut-green garlic mixture, remaining coconut green pea mixture and salt and mix well.