PANEER
SATAY RECIPE
Paneer Satay is an original and rich amalgam of fragrances, and also the mixtures of herbs and flavors and differentiating surfaces and tastes. It contains flavors and techniques that are loved by Chinese, Indian, and Japanese cooking. However, they have been so skilfully consolidated and refined that the resulting dishes have many another and exciting character.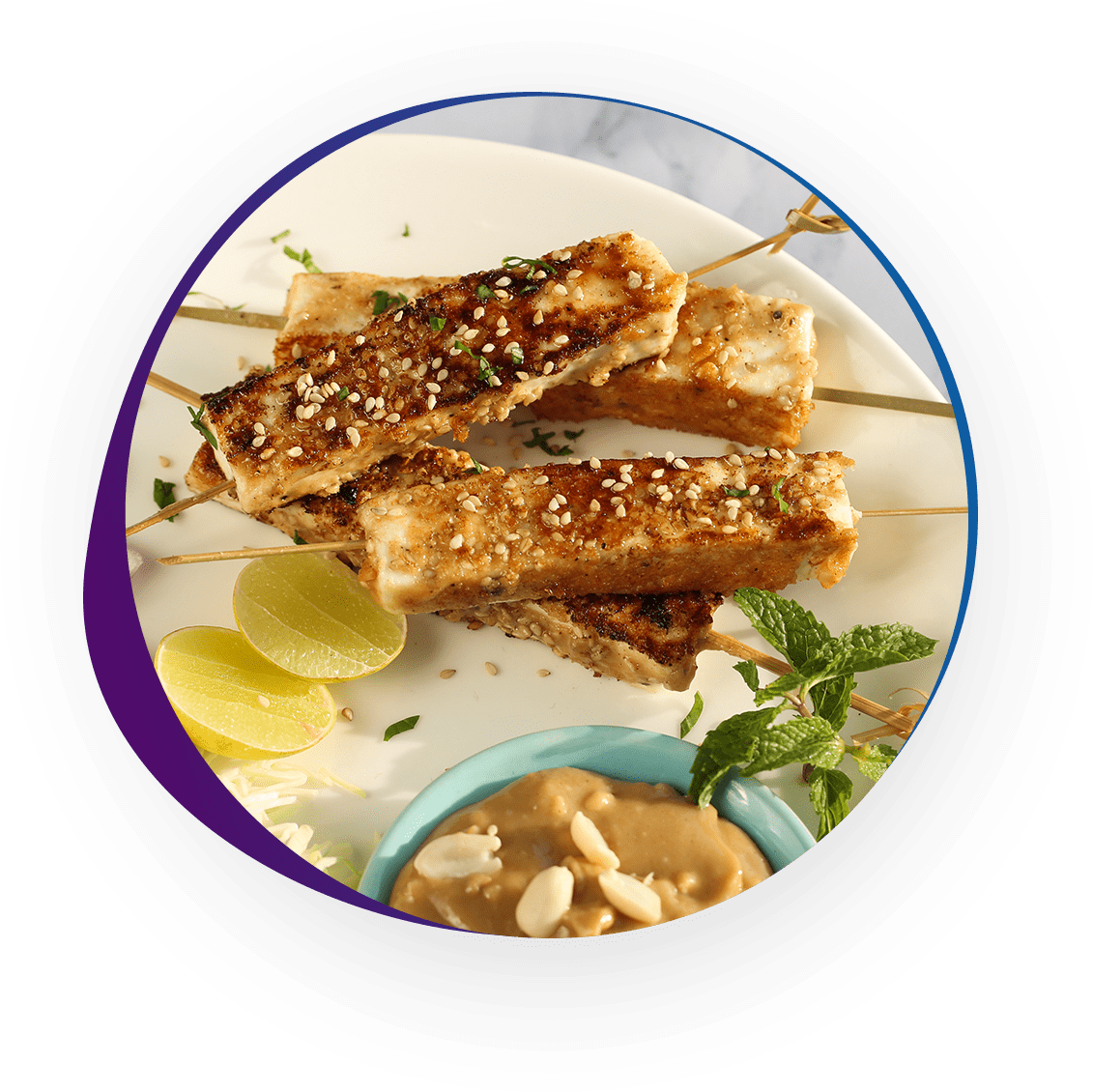 Cottage Cheese cut into 2 inch thick fingers 500 grams
Peanuts to taste
Soy sauce 2 tablespoons
Lemon juice 1 teaspoon
Garlic crushed 4 cloves
Ginger crushed 1 inch piece
Brown sugar 2 teaspoons
Honey 2 teaspoons
Peanut sauce
Oil 1 tablespoon
Onion chopped 1 small
Ginger crushed 1-inch piece
Garlic chopped 4 cloves
Soy sauce 1 tablespoon
Coconut milk 4 tablespoons
Lemon juice 1 tablespoon
Salt to taste
Honey 1 tablespoon
Red chili seeded and chopped 1
Method
Place the paneer fingers in a bowl. Add salt, soy sauce, lemon juice, garlic, ginger, brown sugar and honey, and mix. Leave to marinate for one hour, preferably in a refrigerator.
Heat oil in a griddle or Tawa. Thread the marinated paneer onto satay sticks and place on the grill. Pour some of the excess marinades over the paneer and cook, turning the satay sticks to brown the paneer evenly on all sides.
For the peanut sauce, heat the oil in a pan; add onion and sauté for a few minutes. Add ginger and garlic and continue to sauté. Add soy sauce, peanut butter and two tablespoons of water.
Stir in coconut milk, lemon juice, salt, and honey. Add the fresh red chili and remove from heat. Serve the paneer satay with the sauce.