PALAK PURI
& ACHARI ALOO RECIPE
Palak Puri & Achari Aloo are attractive and delicious food cooked with Palak and wheat. The puri looks green due to the palak add inside it. The food is rich in iron and consist of enough nutrients.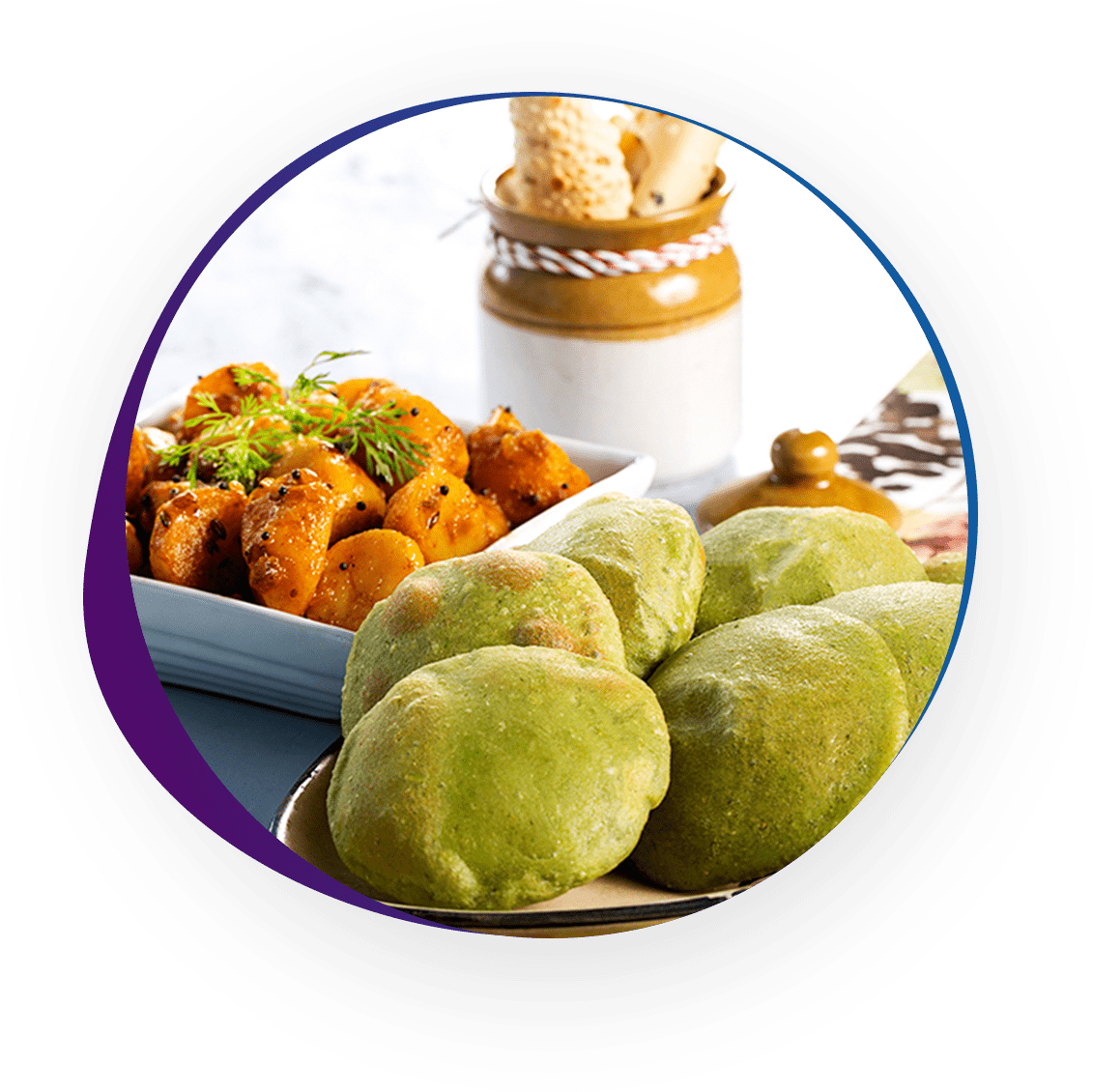 Baby potatoes boiled and peeled 500 grams
Vinegar 1/4 teaspoon
Mustard seeds 1/2 teaspoon
Fennel seeds (saunf) 1/2 teaspoon
Dried red chillies 4
Mustard oil 2 tablespoons
Cumin seeds 1 teaspoon
Onion seeds (kalonji) 1/2 teaspoon
Turmeric powder 1/4 teaspoon
Garlic paste 1 tablespoon
Ginger paste 1 1/2 teaspoons
Salt to taste
Black salt (kala namak) 1/4 teaspoon
Sugar 1 teaspoon
Vinegar 3 teaspoons
Method
Grind together fenugreek seeds, mustard seeds, fennel seeds and red chillies to a coarse powder.
Heat mustard oil in a pan till it begins to smoke. Add cumin seeds, onion seeds and sauté for half a
minute. Add turmeric powder and potatoes and stir. Add garlic paste and ginger paste and quarter
cup of water and mix.
Add the ground spices, salt, black salt and sugar and mix well. Add vinegar and quarter cup of
water and cook till dry.
Ingredients
1 and 1/2 cup whole wheat flour
1/2 cup all purpose flour / maida
200g palak
1tsp ginger chopped
1-2 green chilli
1/2 tsp roasted cumin powder
1tsp salt
Oil for frying
Method
Heat water in a pan. Once the water comes to a boil, add palak and cook for a minute.
Drain the water and run the palak under cold water.
Drain the excess water and add the blanched palak in a blender along with ginger and green chilli
and make a smooth puree.
Add whole wheat flour, maida, roasted cumin powder and salt in a bowl and mix well. Add palak
puree and mix well.
Make a medium soft dough.
Let the dough rest for 15 minutes.
Heat oil for frying in a pan.
Make small balls from the dough and dust and roll to make 3-4 inch puri. Once the oil is hot, deep
fry the puries from both the sides.