DHOKLA
PLATTER RECIPE
Dhokla is one of the famous dishes of Gujarat and also enjoyed as a snack. The recipe for Dhokla is simple and best enjoyed with tempered or pan-fried chilies. This dish can be easily prepared in 30 minutes and required ingredients that are easy to find in your kitchen.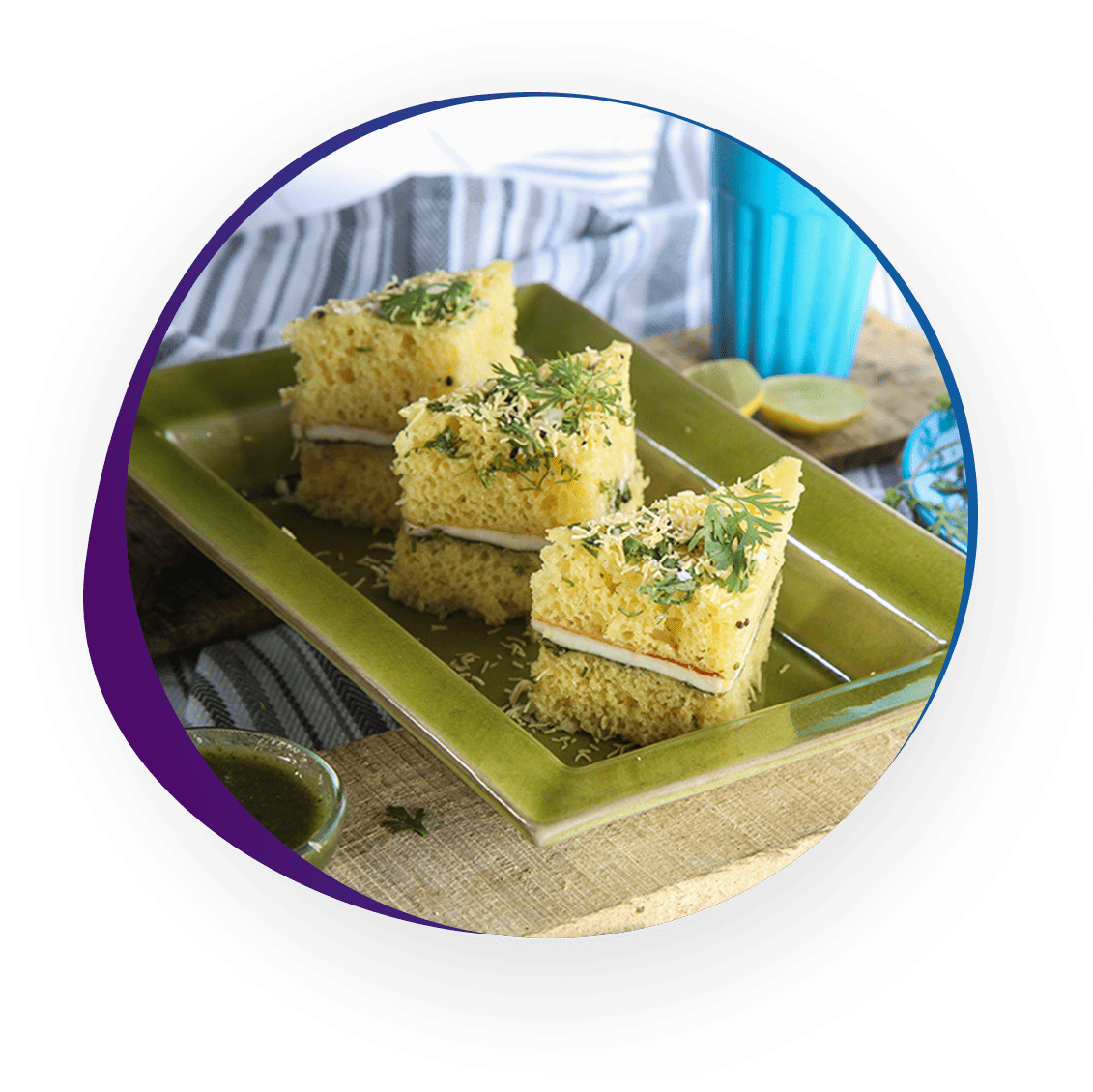 Gram flour (besan) sieved 2 cups
Yogurt beaten 1 cup
Salt to taste
Turmeric powder 1/2 teaspoon
Green chili-ginger paste 1 teaspoon
Oil 2 tablespoons
Lemon juice 1 tablespoon
Soda bicarbonate 1 teaspoon
Mustard seeds 1 teaspoon
Fresh coriander leaves chopped 2 tablespoons
Coconut scraped 1/2 cup
Method
Take gram flour in a bowl. Add yogurt and approximately one cup of warm water and mix. Avoid
lumps. Add salt and mix again.
Leave it aside to ferment for three to four hours. When gram flour mixture has fermented, add
turmeric powder and green chili-ginger paste. Mix. Heat the steamer. Grease a thali.
In a small bowl take lemon juice, soda bicarbonate, one teaspoon of oil and mix. Add it to the batter
and whisk briskly. Pour batter into the greased thali and place it in the steamer.
Cover with the lid and steam for ten minutes. When a little cold, cut into squares and keep in a
serving bowl/plate.
Heat remaining oil in a small pan. Add mustard seeds. When the seeds begin to crackle, remove, and pour over the dhoklas.
Serve, garnished with chopped coriander leaves and scraped coconut.
Rice soaked for 4 hours and drained ½ cup
Split black gram skinless (dhuli urad dal) soaked for 4 hours and drained ½ cup
Yogurt ½ cup
Fruit salt 1 teaspoon
Ginger-green chilli paste 1 teaspoon
Salt to taste
Oil 2 tablespoons + for greasing
Mustard seeds 1 teaspoon
Asafoetida ½ teaspoon
Curry leaves 8-10
Method
Grind together rice and black gram with ½ cup water in a mixer to a smooth and thick batter.
Transfer into a bowl.
Add yogurt and whisk. Cover with a lid and keep in a warm place to ferment overnight.
Add fruit salt, ginger-green chili paste and salt and mix. Add 1 tablespoon oil and mix well.
Heat sufficient water in a steamer.
Grease 2 round steel dhokla plates and pour the prepared fermented batter equally into them. Place the plates in the steamer, cover, and steam for 8-10 minutes. Remove from steamer and set aside.
To prepare the tempering, heat remaining oil in a small non-stick pan. Add mustard seeds and let
them splutter. Add asafoetida and curry leaves and sauté for 10 seconds.
Pour the tempering over the dhoklas and spread evenly.
Cut into squares or diamonds and serve with chutney.